5 ways to get your kids to wear masks – CNN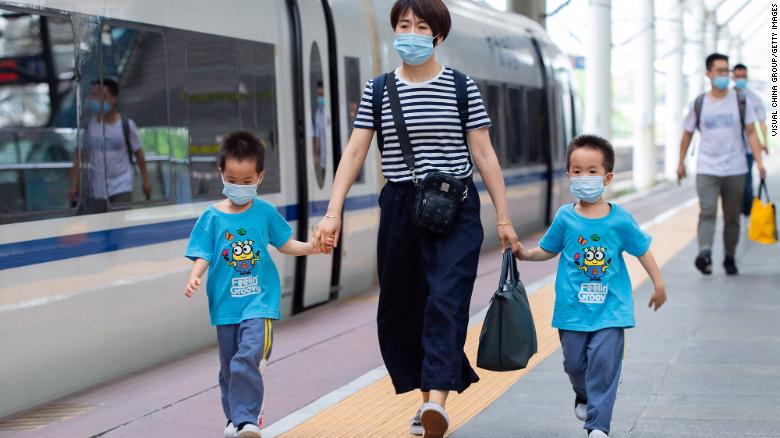 ---
Incisal Edge names Doc Bresler's Cavity Busters' Rachel Bresler, DMD and Tracey Bresler, DMD among '40 Under 40,' America's Best Young Dentists

Incisal Edge, the nation's premier dental magazine published by Benco Dental, recognizes exceptional practitioners for the 10th year. Fall issue devoted to honorees.

Dr. Rachel Bresler                                                                             

                                              Dr. Tracey Bresler

PITTSTON, PA, August 17, 2020 —Rachel Bresler, DMD and Tracey Bresler, DMD, have been awarded the national honor as recipients of 2020 '40 Under 40' by Incisal Edge dental lifestyle magazine. For a 10th consecutive year, Incisal Edge celebrates brilliant achievers in dentistry, ages forty and under, with its signature award.
Fewer than 500 of America's best young dentists have earned this prestigious designation, including the 2020 inductees. Among this year's Incisal Edge '40 Under 40' honorees, announced today, are 40 women and 42 men from 27 states, including Dr. Rachel Bresler and Dr. Tracey Bresler.
Dr. Rachel Bresler and Dr. Tracey Bresler are excited to receive this 2020 '40 Under 40' achievement, together! Dr. Rachel Bresler said, "I feel honored to win this award and now join my brothers, Drs. Josh and Jason Bresler, who are previous recipients of '40 Under 40'. Dr. Tracey Bresler added that '40 Under 40' is now a family affair!
"Growing '40 Under 40' into the preeminent recognition for dentistry's highest young achievers and up-and-coming game-changers has been one of our proudest accomplishments in the history of Incisal Edge," said Terry J. Barrett, chief marketing officer for the magazine's publisher, Benco Dental.
The final "40 Under 40" list includes innovative and passionate young professionals in dentistry across the United States. Hundreds of individuals are nominated by industry experts from around the country and vetted by an independent panel to select the final 80. Whether renowned for their medical innovations, volunteer work and philanthropy, or simply a commitment to outstanding patient care, these 80 honorees represent the best of dentistry today, and the promise of even better dentistry tomorrow.
Incisal Edge magazine @TheIncisalEdge, published by Benco Dental @BencoDental since 1997, will celebrate honorees through a series of informative profiles in its fall '40 Under 40' editorial coverage. Visit @TheDailyFlossBlog
https://l.facebook.com/l.php?u=https%3A%2F%2Ffinance.yahoo.com%2Fnews%2Fincisal-edge-40-under-40-133300628.html&h
https://thedailyfloss.com/2020/08/05/incisal-edge-40-under-40-pays-tribute-to-americas-best-young-dentists-for-10th-year/
https://www.incisaledgemagazine.com/mag/article/incisal-edge-40-under-40-pays-tribute-to-americas-best-young-dentists-for-10th-year/
###

---
Why Social Distancing and Masks REALLY with Children During Covid-19
This recent New York Times article provides important news and TIPS that may help impress upon your children the importance of social distancing, and wearing masks properly. Right now, we really need and value good recommendations!
https://www.nytimes.com/2020/06/13/style/kids-children-social-distance-coronavirus.html?fbclid=IwAR2tXkzwy_9lluoPJV321P0XmtbeJe6LhzG1PZ0cLY7JlIxiYOrb19HoWkAS
#cavitybusters #masksmatter #masks #covid19 #inthistogether
---
Global Dental Technology Company, Zyris, Inc.'s, Rolando Mia, Discusses Covid-19 Pandemic Current Events in Dentistry with Drs. Josh, Jason and Rachel Bresler
Recorded LIVE Facebook interview, on 5/13/20
https://www.facebook.com/ZyrisDental/videos/2774960685946928/

Rolando Mia of Zyris Inc., a global dental technology company located in California, interviewed Doc Bresler's Cavity Busters owners/doctors/siblings, Drs. Josh, Rachel and Jason Bresler, to see how they're navigating the Covid-19 pandemic, and what we're calling the "new normal" of #dentistry.
National, award-winning Zyris, Inc. elevates the dental experience for patients and clinicians through conscious design, innovative technology and a relentless commitment to quality.
Share this video if you find this information helpful! #dentalcare #dentistry #medtech #cavitybusters #pediatricdentistry #covid19 #inthistogether #pandemic
---
Alex's Lemonade Stand Foundation (ALSF) Childhood Cancer Family Newsletter Features Partner, Doc Bresler's Cavity Busters
Keeping your child's mouth healthy is very important to us at Doc Bresler's Cavity Busters! We teamed up with Alex's Lemonade Stand Foundation (ALSF), a national non-profit fighting childhood cancer to produce three educational videos on essential oral and dental healthcare —especially helpful to childhood cancer families. Dr. Jason Bresler does an amazing job as narrator! The videos include vital instructions, tips and guidelines for oral hygiene and dental practices for pre, during and post- cancer treatment. Check out the first video below and learn more about other resources available in ALSF's Childhood Cancer Family Newsletter. @alexslemonade

NEWSLETTER: https://hubmail.alexslemonade.org/checking-in-from-alexs-lemonade-stand-foundation
VIDEO: https://www.youtube.com/watch?v=7RZr5yFB8Hs&feature=youtu.be&
All three videos can be viewed on this website, Community or News, Doc Bresler's Cavity Busters Teams Up with Alex's Lemonade Stand Foundation to Help Fight Childhood Cancer  and at http://www.alexslemonade.org
---
We Stand TOGETHER. A Message of Support and Love from Doc Bresler's
This morning our family received the most beautiful picture and message. A message of support, love, hope and faith – that we will get through this time and that we will get through it together. What's to come is unknown to us all, but the fact that we are all going to go through it together brings us comfort- knowing we have the best team to face the challenges with. Thank you to our entire Cavity Buster family – we love you all and can't wait to be back together again soon. ❤ The Bresler Family
---
April 2, 2020 NEWS UPDATE from your Friends at Doc Bresler's Cavity Busters
---
Today is NATIONAL DOCTORS DAY

This is what a doctor looks like today
On March 30th each year, National Doctors Day honors medical professionals for their dedication and contributions to society and the community. Their dedication puts the patient first time and again. ESPECIALLY now, during this time of coronavirus COVID-19, every doctor on the front line is a HERO. Putting patients first and foremost, they are helping those facing life and death challenges with the tremendous job of keeping everyone safe, and saving lives. We say THANK YOU to doctors and medical professionals in every category everywhere, today, tomorrow and moving forward.
Please stay home and stay safe. We will see you soon.
---
Latest News from the Cavity Busters' Family During Coronavirus (COVID-19)
Coronavirus COVID-19
Dear Cavity Busters Family:
The health and safety of our patients and staff is our highest priority. In response to the outbreak of coronavirus or COVID-19, we are diligently monitoring updates from the Centers for Disease Control and Prevention (CDC), World Health Organization (WHO), American Dental Association (ADA) and Government Officials to ensure we are taking all necessary precautions.
Based on newly released guidelines from the American Dental Association to postpone non-urgent treatment, we will be temporarily "closing" our offices today, Tuesday, March 17th at 7pm. We must all do our part to help slow the spread of the disease. Please follow guidelines released from the CDC to protect yourselves.
We do not know the timeline for closure, but we anticipate at least 2-3 weeks. If you have an appointment scheduled between March 18th and March 29th,the appointment will automatically be cancelled. You do not need to call the office at this time. When we return to regular office hours our team will contact you to reschedule.
Please disregard any confirmation and appointment reminders as they could have been sent in error. We are actively working to turn off our automatic confirmation system.
We remain committed to being your dental home, and will have a team present in our Northeast office location (240 Geiger Road) who will be available to see emergency patients. If your child is experiencing a dental emergency (bleeding, swelling or pain) please call our office. We will have staff answering the phones and doctors readily available between 9am and 3pm. As always, we are available 24 hours a day to handle any true emergencies.
Red Lion Surgicenter will be open on select days with a reduced schedule to care for our patients with urgent dental needs (pain and/or swelling). If you are scheduled for an appointment in the surgicenter, our staff will contact you with instructions.
All patients and family members visiting for an emergency or surgicenter appointment will be screened for COVID-19, including a Travel/exposure/symptom Questionnaire, and a temperature assessment. We must take every precaution to keep each other safe.
We are so grateful for you and your shared efforts to help keep the virus at bay.
Please stay safe and enjoy the opportunity to spend time with your family!
Your friends at Doc Bresler's Cavity Busters
---
Cavity Busters Provides the Safest Environment with Coronavirus (COVID-19) Concerns
Dear Cavity Busters Family:
As confirmed cases of coronavirus (COVID-19) are appearing closer to our region we want to share with you how we are taking steps to provide the safest environment possible for our patients and staff.
We are closely following the CDC (Center for Disease Control) for updates.  In addition to our routine cleaning and sterilization procedures, we want you to know we have already begun taking extra precautions.
We ask you to also please join our efforts to maintain a safe environment for all:
Our team will continue to clean and sanitize our offices throughout the day. We have also increased protocols to be sure all doorknobs, counter-tops, and other surfaces are sanitized more frequently.  We have instituted an all-hands on deck mentality- so every team member will be ensuring our facilities are clean at all times.
Though we will miss seeing you, if you are sick or not feeling well, please stay home. It will not only increase your chances of getting better sooner, but will decrease the chance of spreading germs.  Please call our office to reschedule your appointment for 2 weeks after recovering from any respiratory illness.
Please wash your hands frequently and thoroughly for at least 20 seconds – singing the "Happy Birthday" song 2x is a good way to count.
We know it's easy to forget, but try not to touch your face or mouth with unwashed hands.
Please do not share personal items such as drinks, food, or utensils.
We ask if you have recently traveled abroad (China, South Korea, Japan, Iran, Italy) or have been in contact with anyone with a confirmed diagnosis of coronavirus, that you please come back and see us once you have been cleared by a medical professional.
We are so grateful for you and your shared efforts to help keep the germs at bay. If you'd like to check out more information- please visit cdc.gov.
#cavitybusters #alwaysinthecommunity #coronavirus #covid19
---