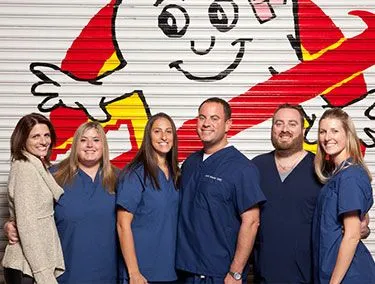 Doc Bresler's Cavity Busters was founded in 1982 by David A. Bresler DDS, a Board-Certified Pediatric Dentist. Since 1982, his practice has grown into 8 incredible, exciting, and colorful locations. His legacy now has 38 dentists and over 250 amazing staff members. It has become one of the largest children's dental practices in Pennsylvania. A true family business, both of Doc Bresler's sons, Josh and Jason are Board-Certified Pediatric Dentists. His daughter Rachel, a pediatric dentist and both daughters-in-law Tracey, a Board-Certified Pediatric Dentist, and Jill, a general dentist, are also members of the group to help provide the highest quality dental care.
By prioritizing skill, friendliness, and compassion, our practice aims to create an environment where children feel comfortable and supported during their dental visits. This is crucial in overcoming any fears or anxieties associated with dental appointments, and it can contribute to building a positive attitude towards oral health from a young age.
Our commitment to transparency and communication is evident through the comprehensive explanations provided to parents about their children's dental needs. This open and informative approach helps parents understand their child's oral health and any necessary treatments.
We add an element of excitement by allowing kids to choose multiple prizes after their dental visits. This is a fantastic way to make the experience more enjoyable and rewarding for them. It not only encourages their cooperation during the appointment, but also creates a positive association with visiting the dentist.
We are well known throughout the Philadelphia region because of our bright and bold offices, our partnership with Philadelphia Phillies, and our unusual and wacky marketing cars, including vintage ambulances, limousines, corvettes, and even an original Good Humor ice cream truck!
Doc Bresler's Cavity Busters is truly The Kids' Dentist, Kids Love to Visit!